Personal Check-Ins
Book a vacation rental in Scottsdale, AZ with Latitude 8, and you can count on unparalleled personalized service. Our commitment to serving you starts when you touch down in Phoenix where one of our rental specialists will meet you at the property, and doesn't end until you're back at home telling your friends and colleagues how your trip to Scottsdale couldn't have been any more hassle-free.
Book Direct & Save
Cut out the middle-man and receive the best rate on one of our world-class vacation rentals in Scottsdale by booking direct through our website. Whether booking for business or pleasure, get the best price for your stay by booking direct here at L8VacationRentals.com. When you're staying in some of the most desirable zip codes in the entire desert Southwest Region, it pays to get the best price for your luxury rental in Scottsdale.
Variety of Accommodations
Our team is highly selective when choosing properties to add to our Latitude 8 management portfolio; we only accept beautifully apportioned, classy, and comfortable vacation rentals. Whether condos, villas, or homes, the inherent sophistication in Latitude8 properties blends perfectly with our penchant for personalized service enabling a customized experience crafted to your specific vacation rental needs.
Vacation Rentals in Phoenix & Scottsdale
The Phoenix of today truly is one of the crown jewels of the desert Southwest, and of all that sparkles in the Valley of the Sun, Scottsdale truly shines brightest. With easy access to the hustle and bustle of downtown Scottsdale—both business and pleasure—it's easy to see why more travelers looking for the classic business/golf/family Scottsdale vacation rental experience choose to book with Latitude8.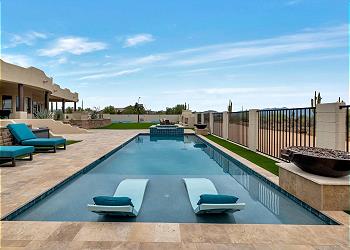 CASA VERDE - New to our inventory, but is an established high end vacation rental. ***Please read the description in its entirety. Please note that the calendar is always exact and up to date, so if it looks available, it is. Also, you can get an exact rate quote and...
The condo was amazing! Very clean and modern. The beds are incredibly comfortable!!! I want one!!! You will love this condo. The swimming pool is great. You are so close to everything. The owners are very very accomidating and are a phone call away.
Anonymous
The rental company was extremely helpful and accommodating to our needs. The location was nice and within walking distance to local shopping and eating. The unit was clean and well kept. The amenities were awesome. The kids enjoyed the pool also. Nice and quiet vacation for us.
Lisa L
We absolutely loved our stay at the Villa Capri condo! I was a little nervous leaving home on vacation for a month with a 6 year old and 1 1/2 year old but this condo was perfect for me and my children. It had everything we could need being away from home. It is remodeled beautifully and is very spacious. The beds were excellent and so comfortable. With the pool steps away from the condo it made for a relaxing summer vacation! The location was also perfect! We would stay again in a heartbeat and I would highly recommend this condo!
Angela B.